Digitus Biometric Door Handles, Complete control and security from a centralized, easy-to-use application with real time monitoring of events.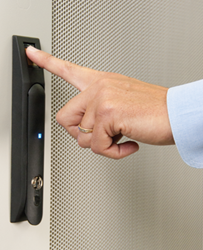 Comic book and movie fans know of The X-men and the main character Professor X. When the professor goes into his hidden hi- tech chamber to enter, he must first place his eye up to a laser beam like looking panel, it identifies his inner eye, then says "Welcome Professor" and opens up the huge metallic doors with the letter X engraved in them.
That's really cool stuff.
Star Trek fans (The Next Generation, not the Captain Kirk version) know that to enter Captain Picard's quarters, they must first stand in front of the sliding doors, he then says with his majestic voice "Come" , then the doors magically come open.
Finally, how many times has James Bond had to crack a complicated code or figure out a finger controlled touch panel in order to enter into his arch enemy's secured fortress so he can thwart the evil plot of destruction.
Each scenario also has one central component that is important to many industries and facilities that store important information....security.
Telcom & Data is introducing the Digitus Biometric Door Handles with fingerprint access control systems. It can secure any area of your data or technology center, from the front door and back, to the cabinet doors. There is no need for cumbersome proximity cards and gaining access is as simple as the touch of a fingertip.
Digitus' proprietary biometric technology, IP networking, and advanced control software work together to deliver centralized administration, real-time monitoring and alerts, and an indisputable audit trail for every door and cabinet you choose to secure.
The DB ServerRack 1U solution uses the Digitus Biometrics' proprietary software and hardware in a system that creates an algorithm associated with the individual's fingerprint, while verifying that the print belongs to a real living and breathing person, all without having to worry about the collection of private personal information.
This system can only be rivaled by Professor X, Captain Picard or James Bond, or at least the geniuses that developed the technology behind these characters in the movies. (probably the guy who wrote the script).
Well, it's not only in the movies, the technology is here and it's real with Digitus BiometricDoor Handles .
Digitus Biometric Door Handles are now available at Telcom & Data. For more information about, Digitus Biometric Door Handles visit Telcom & Data's website or call 1-800-335-0229.
ABOUT Telcom & Data:
Since 1996 Telcom & Data has been providing thousands of telecommunication solutions to organizations around the world to measurably improve communications. The company is a leader in call recording and call accounting solutions. Telcom & Data maintains a network of over 1500 technicians with locations in Chicago, Milwaukee, and Miami.