Great Lakes Custom Products: Technical sales and engineering teams that create ideal custom products for businesses within six weeks.
Milwaukee, WI (PRWEB) March 18,2015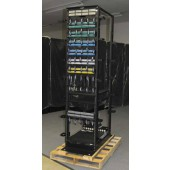 It's a task to estimate the amount of equipment needed for a high tech corporate office. That type of environment is constantly changing based on the needs of the customer, cost and of course availability of funds.
Once the equipment arrives, where to store items and how to configure them is a whole other story.
The environment in which people work can be just as important as the type of work they do. Any executive would want the equipment to be easily accessible but at the same time give the office a certain type of style, flair or décor.
High tech equipment is especially challenging as tech staff has to deal with cords, plugs, screens, connections and power sources. If not done carefully and strategically planned out, it can look and feel unorganized which could lead to a stressful situation if there is ever a technical problem.
No business or business owner wants a scene from Apollo 13 while trying to concentrate on efficiency and gaining profits and revenue.
Telcom & Data would like to introduce Great Lakes Custom Products; a fully customizable team of engineers and manufacturing professionals who are ready to transform business visions into realities. They create the perfect product whether a custom color to match business décor or a corporate logo, a design alteration from their standard products, or an entirely custom product.
Great Lakes Custom Products helps businesses create equipment solutions tailored made to fit.
Great Lakes Custom Products is now available at Telcom & Data. For more information about Great Lakes Custom Products, visit Telcom & Data's website or call 1-800-335-0229.
ABOUT Telcom & Data:
Since 1996 Telcom & Data has been providing thousands of telecommunication solutions to organizations around the world to measurably improve communications. The company is a leader in call recording and call accounting solutions. Telcom & Data maintains a network of over 1500 technicians with locations in Chicago, Milwaukee, and Miami.